I've always loved reading the Bible, but it used to bother me when I'd read a short command without any instructions on how to put it into practice.
Why didn't God write His Word like a sermon with three points to follow?
I thought of a reason sometime later: If He had, we might just follow the steps, close our Bibles, and move on with life. In fact, we might only read the Bible when we need an answer to a problem.
The Lord gave us the Scriptures primarily so we could know Him—His nature, works, ways, and thoughts.
The answers to our questions are found in the Bible, but they're scattered throughout. We have to search for them, and in the process, we discover the amazing God who saved us. Glimpses of His identity are found in some rather unexpected places in Scripture. That's why we should read the entire Bible regularly instead of merely using it as a reference book.
What do you do when you come across a short biblical command without further explanation?
Do you skip over it, saying, "Well, I have no idea how to do that, so I'll just move on to something I understand"?
The totality of God is beyond comprehension—He hasn't revealed everything to us, but much of what He wants us to know is revealed in His Word. As the psalmist wrote, "The unfolding of Your words gives light; it gives understanding to the simple" (Ps. 119:130).
It's God's will that we grow in our understanding of Scripture. And that includes His commands. For example, 1 Thessalonians 5:18 says, "In everything give thanks; for this is the will of God for you in Christ Jesus."
So, we now know exactly what God wants us to do. But how in the world are we supposed to do it? It's easy to be thankful for good things, but what about suffering, loss, and trouble?
How can we be expected to thank God in those situations?
Before you write off this command as impossible to obey, consider the apostle Paul. His life was filled with hardship. He was repeatedly rejected, maligned, whipped, beaten, shipwrecked, and imprisoned (2 Cor. 11:23-27), yet he wrote that believers should be thankful in everything.
How was he able to thank God in all this? Paul loved Christ and had an unwavering passion to know Him fully. In every situation, Paul could rejoice in the Lord because his mind was shaped by Scripture. He also knew the keys that open the door to gratitude. Would you like to know them, too?
The first key is that as a believer in Christ, you are in God's hands.
When describing His people, Jesus told the disciples, "My Father, who has given them to Me, is greater than all; and no one is able to snatch them out of the Father's hand" (John 10:29).
Furthermore, the One who holds you is omnipotent: "The Lord has established His throne in the heavens, and His sovereignty rules over all" (Ps. 103:19). There is no one greater than your Protector.
The second key is God's assurance that He works everything for our good.
"We know that God causes all things to work together for good to those who love God, to those who are called according to His purpose" (Rom. 8:28). Whatever happens to us, God will use it to achieve His purpose in our lives.
Often He gives blessings, pleasures, and abundance, and we recognize them as coming from the Lord. But He also allows difficulties and suffering. Yet even from these things He'll bring positive effects, frequently in the form of our spiritual growth and learning.
God is also able to take our failures and turn them for our good. When we disobey and sin against Him, His chastening hand comes upon us with painful consequences to bring us to repentance.
I remember the words my mother said every time she had to discipline me: "I'm doing this for your good." And that's exactly what our heavenly Father does for us. He never instigates sin in our lives (James 1:13)—but if we stumble over a temptation, He may use it to humble and teach us.
Here's the third key: an understanding of God's specific purpose.
It's easier to give thanks when we know the purpose we are "called according to" (Rom. 8:28). That purpose is found in the very next verse: "to become conformed to the image of His Son" (v. 29).
God is working through your circumstances to make you like Jesus. It's a process that begins at salvation and will be completed at the resurrection, when the Lord "will transform the body of our lowly condition into conformity with His glorious body" (Phil. 3:21).
In eternity we'll see how God worked everything together for our good. All pain and hardship will be gone, and we'll experience fullness of joy and pleasures forever in our Savior's presence (Ps. 16:11).
When your mind is focused on God's sovereignty over all your life, you'll be able to thank Him in every situation, whether pleasant or difficult. Believing these three truths will make your trust unshakeable, bring you great comfort, keep you from bitterness, and teach you contentment.
What better reasons could there be to thank the Lord for all things at all times?
Prayerfully yours,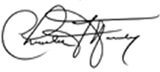 Charles F. Stanley
P.S. All of us here at In Touch Ministries would like to wish you a happy Thanksgiving as you celebrate the goodness of God in your life and His many blessings. I pray you won't forget to give thanks in everything, knowing that this is His will. God bless you.