When I was in first grade, something very positive happened to me.
I overheard my teacher comment to someone else, "I like Charles." She probably never knew I heard her remark, let alone how much it meant to me. I still remember the way I felt at that moment, and the encouragement it gave me during a lonely period in my life.
Later, as a teenager, my Sunday school teacher also made a big impact on me. Even though I no longer attended his church, whenever he saw me delivering newspapers, he'd pull his car over and talk with me for a while. Then he'd buy a newspaper from me for about twice the price even though he had one delivered to his home. We didn't discuss anything important, but just the fact that he cared enough to go out of his way to talk to me made me feel special.
You could probably share a memory or two as well about people who deliberately or unknowingly encouraged you.
But today we're living in a world in which experiences like this seem rarer every day. Despite being more connected electronically, we're lonelier and more isolated than before. This isn't how God wants us to live.
Scripture reveals some basic traits the Lord desires for all believers, and one of these is that we be encouragers (1 Thess. 5:11).
In the New Testament, encourage means "call to one's side." The Christian life is not one of isolation and independence but of relationship and interconnection. We walk together, side by side. Although some of us are more outgoing than others, we can each express encouragement in our own unique ways.
We have no idea what an impact our gracious words, sound advice, or acts of kindness may have on another person, but it's often greater than we think.
Barnabas, whose name means "son of encouragement," is a prime scriptural example.
Eager to help the believers in Jerusalem, he sold a piece of property and gave the money to the apostles so they could distribute it to those in need (Acts 4:36-37). Later he brought Saul, a former persecutor of believers, into the church, assuring church leaders that Saul was now a Christian (vv. 9:26-27).
Barnabas couldn't have known the importance of this act. Saul became the great apostle Paul, who planted churches and wrote many powerful letters recorded in the New Testament.
God wants to use each of us at various times and in different ways to encourage others. This means we must be alert to people the Lord brings across our path and make ourselves available—even when it's inconvenient or we feel like we have nothing to offer.
To become an encourager, we must first give people our time and attention (1 Thess. 2:17-20).
Face to face communication is very comforting, but we can also support others through phone calls, emails, letters, or text messages. There are so many ways to reach out these days. It's important to remember, though, not to get so involved with our electronic devices that we wind up neglecting the people with us. Be observant of those near you and listen compassionately, so you'll know what's in their hearts and how to support them.
Second, we can encourage others by meeting their emotional or physical needs (v. 5:14).
This might come in the form of comforting the hurting, spending time with the lonely, or resolving a practical problem. For example, we could use our abilities to help those who feel inadequate in a particular area. If I didn't have a few staff members who come to my rescue, my work on the computer would be a disaster. I'm so grateful for their skills and talents.
Third, Christians are called to build each other up spiritually (Rom. 1:11-12).
In hard times, those who are struggling need someone to remind them of God's presence, unfailing promises, or unlimited power. Sometimes it's helpful to point out a verse that reveals God's instructions or comfort.
Another important aspect of spiritual encouragement is warning someone who's headed down the wrong path and offering them loving correction. This can turn out to be a priceless gift.
Finally, encouragement is a motivator (Heb. 10:24-25), especially when we fail in some way and just want to give up.
That's when a brother or sister in Christ can help persuade us to keep going. I remember a number of times I didn't do very well in a particular subject at school. My mother didn't shame or condemn me, but simply encouraged me to do my best. Her advice has stayed with me all these years, motivating me to persevere through weakness, obstacles, and difficulties in life, and do my best to bring God glory.
We all need this kind of encouragement from others. In turn, we can be encouragers to those around us. If you ask the Lord, He'll give you wisdom about what to say and do.
Remember, you never know what a difference your kind words and actions could make in someone's life.
Prayerfully yours,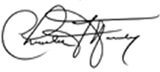 Charles F. Stanley
P.S. Relationships are such a vital part of our lives. God works in us day after day to refine us, so we can bless others with His love and appreciate what they have to give, as well. In Touch is here to help you prayerfully strengthen your connections with other people to God's glory. It's my earnest prayer that our companionship on the Christian walk is a blessing to you.